12-loop strap for stretching
Get the ultimate stretching assistance with this multi-loop stretching strap. Diversify your yoga practice or perform physical therapy exercises safely on your own.
The stretching strap features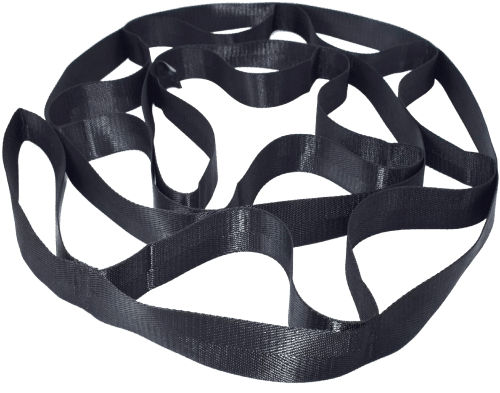 Made of durable and sturdy performance fabric
Made of resilient performance fabric, each loop ensures that you are in control of your own stretch sessions, meaning that you don't overstretch. This 8ft long stretch-out strap provides the ideal amount of resistance to support your body safely and comfortably.
Perfect for anyone
Designed for all fitness levels, the 12-loop strap is easy to adjust depending on the length that is right for you. Personalize your stretches and warm-ups securely with loops that are large enough to fit feet and hands of all sizes.
Improves posture, flexibility, mobility, and aids in injury prevention
Don't confuse this with yoga straps that don't have loops! This stretch-out strap can withstand daily use and won't change shape or fray. Work your way up or down the strap as your flexibility increases, and adjust it for added convenience during physical therapy for the ideal release every time. Now you can open up your chest, legs, back, or hips without the strap digging into your palms or ankles. Use the loops on the yoga strap as a guide while deepening poses or to prevent overstretching.
About JupiterGear
Jupiter Gear began with our founder, Pez Elias, who had an interest in promoting awareness around health and fitness.
Today, Jupiter Gear adheres to the concept that everyone is an athlete, and it influences everything that we do. Our vision is to break the barriers that limit you, encourage you to have a positive self-image, and empower you to believe that you already are an athlete. We do this by supplying you with the fitness gear you need to become an athlete – your way!
By offering extraordinary fitness products with an athlete's eye, we are driven to make you feel inspired every single day. Our calendars are marked by yoga practices and Spartan races. The rest of the time we're encouraging someone to do squats or take the stairs. We create equipment we use ourselves, and we design clothing we wear every day.
Whether you're just starting out or have been working out for some time, we believe in you. Much more than a store selling workout gear, we see ourselves as an ally along your fitness journey. We're here to prepare you for your immediate health goals as well as the bigger ones down the road.
This means small, gradual actions. Consistency. Patience. Most of all, positive thinking. Our hope is that our fitness gear has a place in all your weekend warrior adventures as well as your quiet moments of self-reflection. So, think bigger and achieve more. Get motivated to become your best self; don't accept excuses, only results.
We'll gear you up along the way!
Designed In
Los Angeles, California