No more slipping and falling
Load and strap down cargo bags, boxes, canoes, kayaks, skis, snowboards, and bikes to the car roof all with ease and safety. Our Universal Car Footstep provides you a safety leverage for better support to prevent accidents and injury.
No dirt or shoe marks
Remember stepping on your driver's seat to reach the top of your car? And then seeing those unsightly dirt and scuff marks? That's all history with our safety step.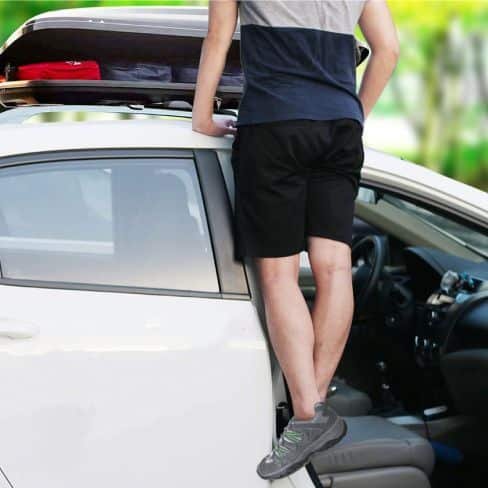 Compact support
Our footstep measures 5.9 x 3.1 in (15.5 x 8 cm) for a perfect stepping support. It eliminates the need to bring out step stools or ladders that just end up being a burden.
Install (and remove)
in a flash
No screws or bolts needed. Your car already has what it takes to hook up this step tool. Every front door on a car has what is known as a striker hook or plate: it's the D-shaped ring that sticks out. Just hook your Universal Car Footstep onto this, and you're set. When you're done doing what you need to do on the car rooftop, simply unhook the step.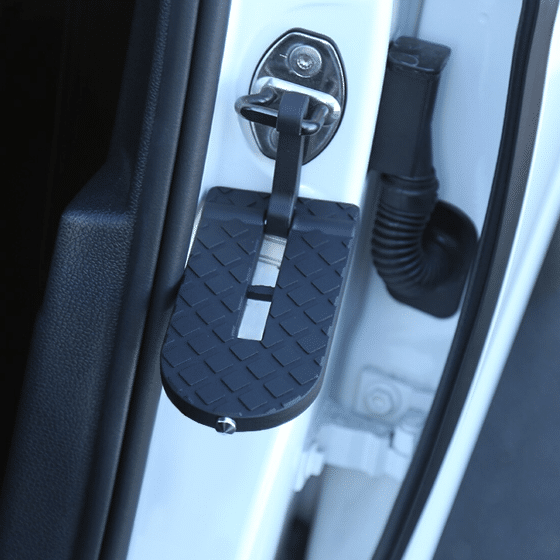 Over 400 pounds
of support
Government safety testing protocol in the U.S requires that every vehicle door latch be able to withstand a vertical force of 2,500 pounds and a horizontal force of 2,000 pounds without failure. Our aluminum-alloy step supports just about any sized human, with up to 440 pounds of support. Step up with confidence without fear of falling or slipping.
Great and helpful for anyone
From neighbors that are seasonal skiers to the family friend that goes canoeing or bike-riding in the mountains all the time, our Universal Car Footstep is a thoughtful gift idea for extra safety and support for everyone.