Behold the mystical skeleton
There's always such magic and majestic mystery surrounding the unicorn, a mythical creature believed to symbolize miracles, wisdom, innocence and purity. Take all those values — and add an edge — by stripping away all the flesh. Make a statement with our Unicorn Skeleton Earrings — and redefine what the horned creature means to you.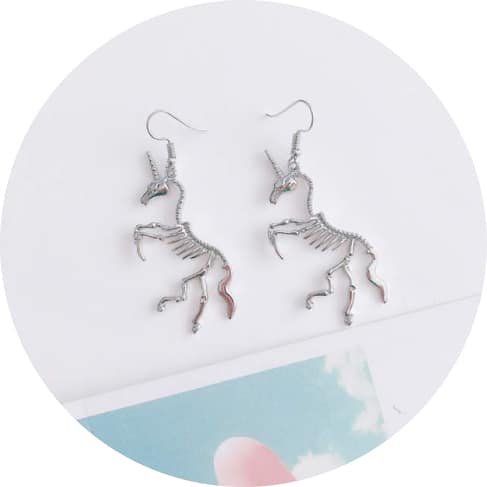 Turn heads
The unique yet spooky design of our unique unicorn earrings will captivate the attention of friends, family, and strangers alike. You'll be asked over and over where you got your super cool earrings from.
Spooky and sinister
Whether your style is grunge or biker or you're going for a witch- or steampunk-inspired look for Halloween, discover the unexpected surprise from these cool unicorns dancing on your ears with every step you take.
Quality design + build
Our Unicorn Skeleton Earrings are made from zinc alloy in a drop-earring style for an edge and style that's truly one of a kind. Discover a spooky yet chic addition to your jewelry collection that will last for time and time to come.