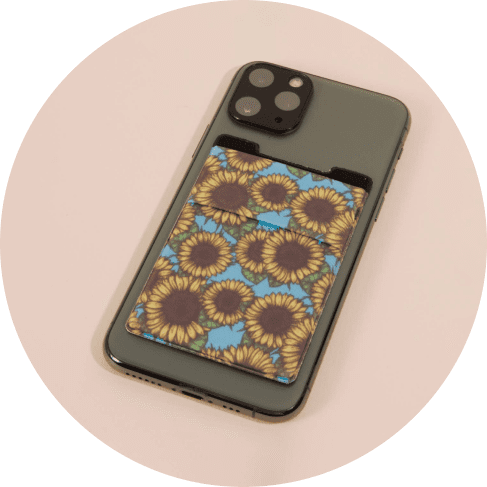 Oh, that's a cutie!
Tired of a bulky wallet? Uneasy about your tiniest belongings, like credit cards or cash, getting lost and unreachable in the farthest corner of your backpack? Wave your worries goodbye! This patterned pocket will easily and securely stick to the back of your phone or tablet, and carry your essentials in style!
What can the pocket do?
Note the difference it can bring to your routine!
Leave your purse at home
No need to carry extra stuff around: the pocket can easily house a couple of your cards, cash (if necessary), and even an ID like a driver's license!
Use it with any smartphone or tablet
Does your device have a flat back with a size enough to fit a credit card? This Sunflower Print phone pocket will definitely fit it, then!
Make use of its universal size
With an approximate width of 2.3″ and length of 3.5″, this phone pocket offers a great balance between a minimalistic design and impressive capacity.
Enjoy the extra convenience
Looking for extra flexibility while moving around? Simply pack your credit cards, ID, and some cash into this lovely pocket and you're good to go!
Add a bit of sunshine to your days
With its bright eye-catching pattern, this Sunflower Print phone pocket makes a lovely addition to all the nice little things you're surrounding yourself with to boost your mood. And with the exciting functionality it offers, there's no doubt you'll appreciate sticking it to the back of your gadget and enjoying the new dimension of freedom it opens up!