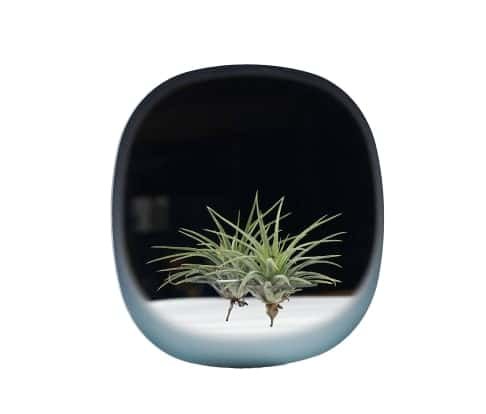 A reflection of nature
Quite literally. Our Square Blue Plant Mirror allows you to hook in a small plant or flower of your choice for a modern, edgy take on art and decor.
Lookin' good, plant
You're a piece of art
Hang or stand
Our mirror works both ways for diverse decor options and looks, with an included holder attachment.
Simple build + feel
This plant holder is made of an acrylic mirror and aluminium. It measures 5.75" x 5.75" (L x W) for an elegant presence.
Easy decor anywhere
From work desk to hallway table, it's easy to add a touch of nature without bulk or weight.
Grow pretty and confident
Our mirror allows your plant of choice to flourish gracefully with confidence.
It's an artsy gift for anyone
Gift style and modern design to any friend, family member, or coworker with this ultra-unique design-first piece.
It's like a piece from the museum
The non-traditional display design of this Square Blue Plant Mirror makes it look like it came from an art collection somewhere.
Fun ideation = FUNNYFISH
Modern aesthetic is here
The FUNNYFISH brand merges culture with nature for modern design that is durable yet eco-sustainable. Our Square Blue Plant Mirror merges effortless style with maximum charm to help anyone feel their personal space feel more like home. All items by FUNNYFISH are designed with the goal to inspire better everyday living and playful fun.