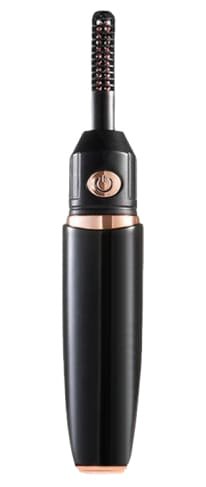 Curls run the world
Are you tired of conventional eyelash curlers that rip out the precious pieces of hair? Do you have to spend a lot of time getting those desired curls? Or do you just want to get curls easily and without fuss? This heated curler will change your beauty routine forever.
Flawless look within 5 seconds
How do I use it?
Make sure your eyelashes are clean and dry. Push the button and wait until it gets red – it means it's ready. Do approximately 5-second-long brushes. After 3 minutes of operation, it'll turn off automatically.
Product specifications
The charging time is 1-2 hours. It's made from ABS & PC plastic, so it's safe to use. The heat won't hurt you or burn you! 5.59×9.44×6.69 inches in size – not bigger than a normal mascara!
Eyelashes to die for
This curler will simplify your beauty routine significantly! Always have those sensuous lashes that strike everyone who looks at it. Don't ever rip your lashes out with a curler, don't experience pain or annoyance because they won't curl. We curl our hair, so why not enjoy the convenience of the engineering when we get our lashes done? A perfect find for those who want sexy lashes fast, easy, and safe.