The answer to your walking needs
Daily walks with the dog are great moments for you and your four-legged friend! To give them a unique character, get this very useful and stylish dog waste bag holder.
Cute, reliable, and convenient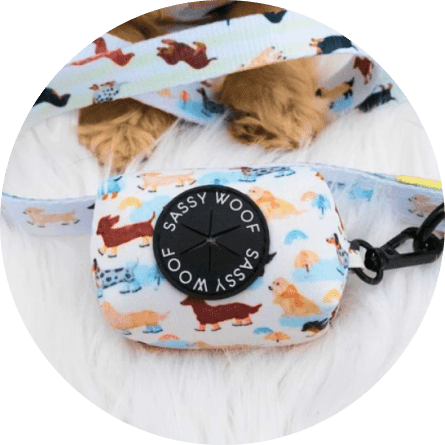 Great for any weather
Featuring an original Sassy Woof design, this Rainy Dachshund Dog Waste Bag Holder is great whether it is rainy or sunny: every day can be fun with this cute little pouch!
This bag conceals great possibilities
For your convenience, you can also use this poop bag holder to hide your dog's favorite treats inside – they will always be at your fingertips.
Looks so cute, feels so convenient
This waste bag holder by Sassy Woof measures approximately 3″ x 2.5″ x 2″. It includes one standard waste bag roll and is made with heavyweight neoprene material. You can easily clip it to your leash or bag, and there is a small zipper pull to replace the waste bags. The perfect accessory for you and your dog!
About SASSY WOOF
Modern. Classy. Affordable.
Inspired by our two sassy & spunky dachshunds Maya The Dox and Winston The Dox, we created Sassy Woof to deliver a dog apparel experience that makes your fur-baby feel comfortable and fit for daily use. Our designs are the direct result of endless hours of careful thinking and meticulous attention to detail and crafting. We focus in developing new accessories and products every season to keep your pup's wardrobe as fresh as yours without breaking the bank. Our customers are like our family and we love interacting with each and all of you!
Sassy Woof is a small business proudly based out of the suburbs of Washington D.C. A portion of our proceeds are donated to animal charities because no pet should suffer in this world.
Designed In
Sterling, Virginia