Is your dog ready for a good walk?
Are you looking for the perfect leash to fit your needs? The 'Rainy Dachshund' Dog Fabric Leash provides a whole new walking experience for you and your pet. Dog leashes are not only necessary or convenient, they can also be a fashion accessory. This one by Sassy Woof has an extremely adorable print of a Dachshund on it.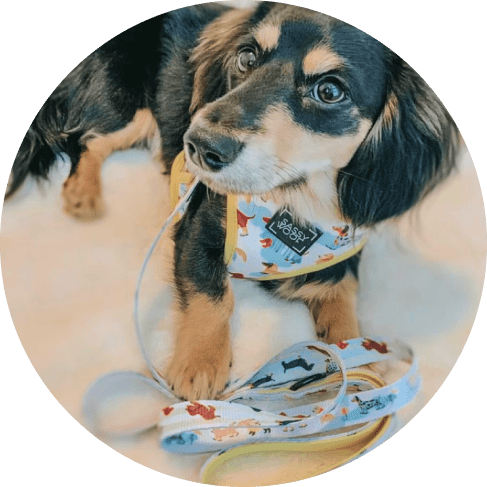 There's not a lot more you can ask for in a leash
Safe, secure, and stylish dog leash
Colorful and stylish
To many dog owners, the canine style is extremely important. This dog leash helps your pup gather glances of envy from the other canines in the park.
Hold your essentials
Features a sturdy D-ring at the base of the handle to hold waste bags, keys, and other dog walk essentials.
Sizing information & details
This leash is 60″ in length and 0.8″ in width & padded with a neoprene handle for extra comfort for the humans.
Wash & care instructions
Refrain from emerging the leash in water. For best results, spot clean only with water and soap. Hang to dry.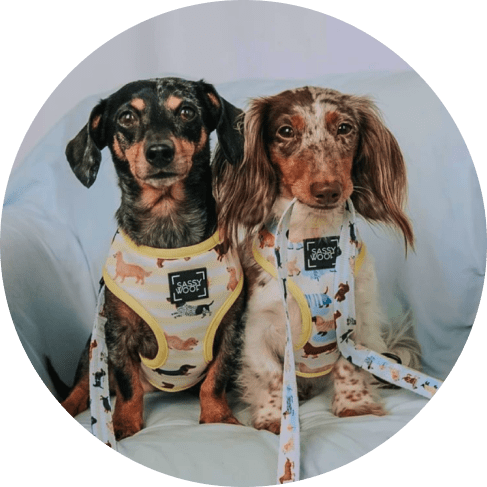 Just the right length
This Rainy Dachshund dog leash is long enough to be comfortable for you and your pup, but not too long to let your dog just wander around.
Designed for all dog lovers
We strongly believe that walking with your dog should be pleasant and comfortable, and this dog leash by Sassy Woof reflects this idea.
The only leash you'll need
It's absolutely important to have a reliable dog leash when you head out the door on a walk with your four-legged friend. This one is much more than just being pretty. It's your life hack accessory!
About SASSY WOOF
Modern. Classy. Affordable.
Inspired by our two sassy & spunky dachshunds Maya The Dox and Winston The Dox, we created Sassy Woof to deliver a dog apparel experience that makes your fur-baby feel comfortable and fit for daily use. Our designs are the direct result of endless hours of careful thinking and meticulous attention to detail and crafting. We focus in developing new accessories and products every season to keep your pup's wardrobe as fresh as yours without breaking the bank. Our customers are like our family and we love interacting with each and all of you!
Sassy Woof is a small business proudly based out of the suburbs of Washington D.C. A portion of our proceeds are donated to animal charities because no pet should suffer in this world.
Designed In
Sterling, Virginia