The one thing you'll need for at-home grooming
Our high-grade Pet Grooming Tool puts you in charge of taking your beloved dog from the comfort of home. From a quick biweekly cleanup to full-on, much-needed haircut, become your pet's own barber with our dynamic grooming buzzer.
Convenient charging
for ultra convenience
Our buzzer is powered by a built-in 3.7V 2200mAh lithium-ion battery that is rechargeable anytime, anywhere — thanks to the convenience of USB. One charging cord is included in your purchase so you can charge your device from a wall outlet to a portable power bank.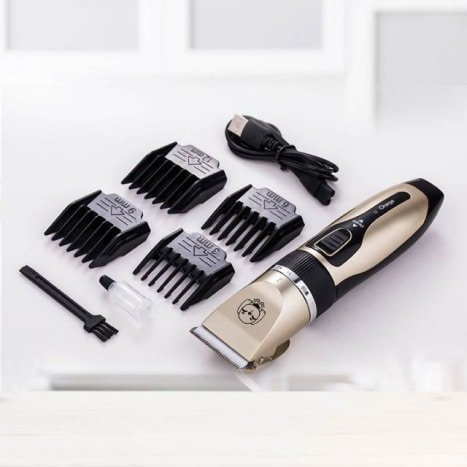 Built for high-performance
that's comforting
A fixed stainless-steel blade and ceramic moving blade ensure sharp, accurate cuts while a tuning knob allows you to adjust to five lengths for easier grooming. Four attachment guides help you fine-tune your trim. And a low-vibration, quiet motor helps ease dog anxiety when it's time for a cut.
Powered for two hours of cutting time
A full charge on our trimmer delivers 120 minutes of usage time for the ultimate peace of mind. No buzzer dying on you mid-cut for your little four-legged friend.