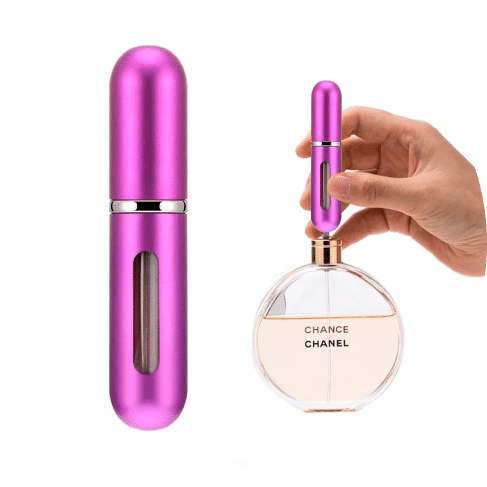 Your favorite scent,
on the go
Want to freshen up throughout the day, but your perfume bottle is too large to carry around? Our Perfume Storage Bottle is just the solution. Fill with up to 0.17 liquid oz of your favorite scent for convenient touch-ups anytime, anywhere.
Up to 70 sprays
(that you can see)
Our ultra-small atomizer spray bottle provides up to 70 sprays of your favorite scent, for an on-the-go freshen-upper that will last you for months in one fill. Our fine-spray pressure nozzle dispenses a generous mist of your signature scent everytime: it's like having your full-sized perfume, but without the weight of the bottle. A clear window indicator on the atomizer bottle allows you to monitor the perfume level inside.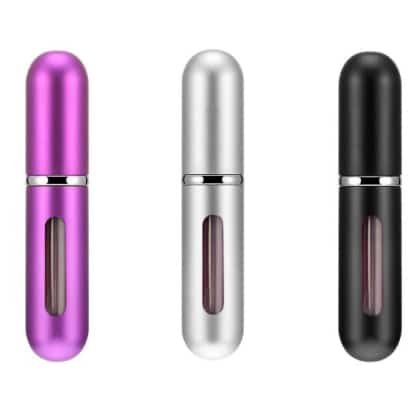 Filling up is simple
Just grab your perfume and go. Our Perfume Storage Bottle makes freshin' up while on the go easy and stress-free. Simply spritz once (or twice — or three times) and soak up your favorite scent. Perfect for date night, a job interview, or a night out on the town with your girls, this atomizer spray bottle is the ultimate must-have in your clutch or purse.
Step 1: Remove the spray nozzle from your perfume bottle.
Step 2: Place the bottom of the atomizer bottle onto the perfume pump.
Step 3: Press and hold down until the atomizer is filled (do not fill to 100% though).
Four beautiful colors
Choose your Perfume Storage Bottle from purple, silver, black, and pink finishes. A flash of color can be ultra-glam and look mysterious yet chic. Fascinate friends when you pull your sleek spritzer out and reapply your perfume.
Carry anywhere
At just 3 x 0.4 inches (L x W) and nearly weightless, slip this lipstick-sized sprayer into your evening clutch, jacket pocket, or little makeup bag for fragrant touch-ups throughout the workday or throughout the night as you party away.