Hygiene just got
more hygienic
Got an aging (probably moldy) toilet brush sitting in your bathroom? Throw it out — and upgrade to our eco-friendly, innovative Modern Hygienic Toilet Brush. With bristles made from anti-bacterial thermoplastic rubber, our hygienic toilet brush makes toilet scrubbing one less worry (and it's one less product you'll need to replace). Zero transfer of bacteria and grime equals less gross and less work, right? It's the next level of toilet scrubbing that's environmentally-conscious yet high-performing.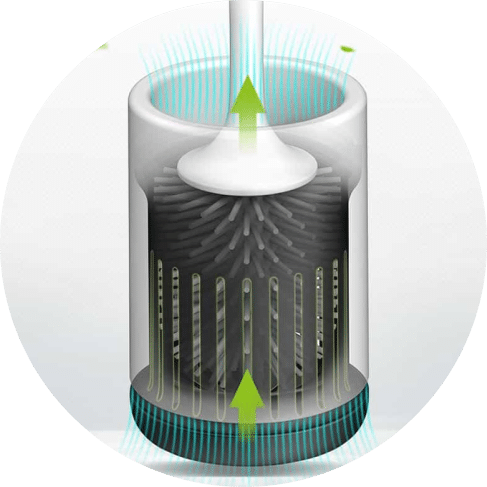 Look, Ma —
no drips or mess
Less mess, less stress, right? Our brush holder chamber features a suspended drain to allow water to drain and evaporate, eliminating moisture and mold build-up. No more funky smells or potential source of growing bacteria (at least from this item in the bathroom).
Ergonomic design
A smooth, extra-long handle ensures you reach far when it's clean-up time for the toilet. Whether you like to reach from afar with your nose pinched or zero in with a face mask on, any cleaning style works with our easy-to-grip brush handle.
Bristles of power
Our thermoplastic rubber bristles are anti-bacterial, meaning no transfer of germs and crap (pun unintended) anywhere else as you scrub and sanitize. The rubber works well with strong cleaning agents, and its soft build means you won't need to worry about scratching porcelain or ceramic toilet bowls.
Compact-sized
Our brush in total measures 16" x 3.5" (410mm x 90mm), meaning it doesn't take up a lot of space. No bulky square holders like with traditional, ordinary toilet brushes.