A stylish addition to any man's look
This watch is a perfect find for those men who value minimalist, sleek, and calm designs. This straightforward and restrained design has nothing extra.
Be, not seem to be.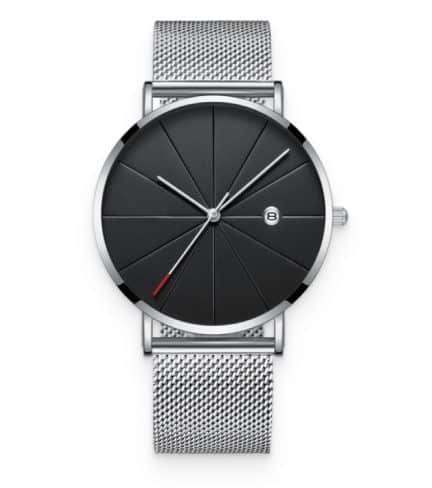 Getting rid of pretentiousness
This watch is about authenticity, nothing else
Designed to last for long
Using zinc alloy in the production lets us make the watch durable and resistant to corrosions. The watch will bring you joy for a long time.
Elevate your everyday looks
No matter who you are, this watch will give any look of yours a tasteful kick. Silver goes well with anything and doesn't look foreign.
Thought-through safety
Our products are CE and RoHS certified, which means they're safe for the wearers and the world around. Responsibility is a must!
Product specifications
Strap length: 7.87'' Strap width: 0.70''
Dial diameter: 1.10'' Case thickness: 0.43''
Water resistance: NO
Find the perfect adjustment quickly and easily!
Silence says much more than any words
You will not want to take the watch off. And we do understand you! Enjoy the simplicity and style of this watch combined with incredible capacities. Why grab attention with flashy watches? You know who you are – no matter what others may think.