Trash goes right where it belongs: in the trash
Ever wonder why cars don't come built with a trash can? We wonder that too sometimes. While it's unrealistic (and unsightly) to install a full-size trash bin into your front passenger leg space, there is a more appealing solution: a small trash bin that can fit conveniently into a cup holder in your vehicle. Say hello to our Mini Car Trash Bin. Made of premium quality braided, which makes it more durable and sturdier than normal cables but also flexible tangle free, withstand a variety of everyday connection needs and long-term use.
Small + sturdy
Made from non-toxic ABS plastic, our little trash bin mimics the look of large, full-sized trash cans, with a "PUSH" logo at the lid opening. The can fits right into a standard-sized cup holder for a trash bin for snack wrappers right within your reach. The can measures 7.9 x 2.7 inches (L x W).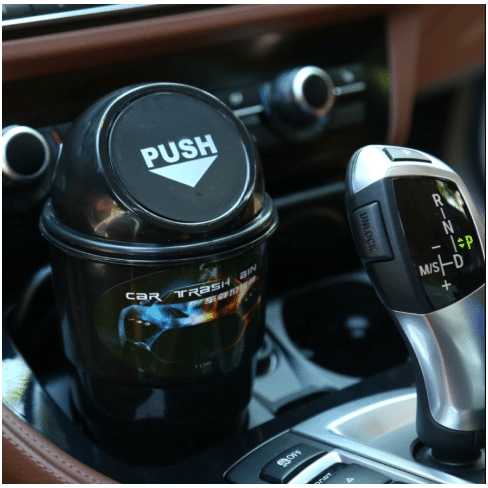 A great gift for anyone
From a teenager with his first car to a sloppy coworker whose car is always like a trash fill, everyone can benefit from the gift of being cleaner and more organized. Give the gift of keeping trash responsibly stored with this Mini Car Trash Bin.
Not just for the car
It's made for use in the car, but it doesn't mean that's the only place this handy accessory can stand up. Our little trash can also works great at your work desk, on your bedside night table, or even in the laundry room for some quick and easy disposal of small trash.