The ultimate make-up set
Great for any make-up lover, this is just what you need for flawless and trouble-free makeup application. Complete with brushes of different shapes and sizes for various make-up related tasks, this set is everything you need and more! Our fantastic brushes will do the job perfectly no matter what look you're going for.
10 pcs brush set details
Materials and construction
Material: synthetic hair (brush), wood, aluminium (handle). Color: grey & gold. Size (package): 20*14*1.8 cm. Weight: 120g. Attached to the handle firmly, no shedding or fraying.
100% safe
Clean and sanitary, our cute brushes are made to last. We care about our customers and never use toxic materials. No lead, no toxic paints, no risks for your health!
Eco-friendly and cruelty-free
All the brushes are crafted from quality materials that can be recycled. Made from synthetic hair, which means no animals were harmed.
Brush up your look
This comprehensive brush set has everything you need for the most intricate make-up styles. Comes with 10 different brushes that will help you put on any make-up with zero effort.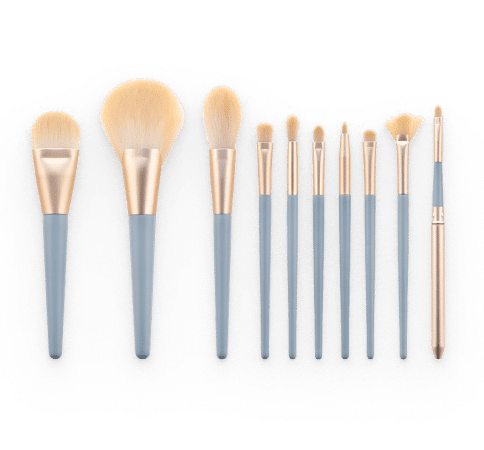 Pro brush care tips
Wash your brushes in lukewarm water at least once a week to prevent product and bacteria build-up. Use brush cleaning silicon pads after every use to get rid of excess product. Store and transport your brushes carefully in a cosmetic bag to avoid breakage, deformation or bristle damage.