Glide through tangles and
knots without any pain
Ouch! Bristles got your hair again? Stop the pulling and tugging — and just throw the whole brush away. It's time to upgrade to something better. Enter the solution you've been praying for: our Magic Detangling Brush, specifically designed for ethnic hair that doesn't do well with just any ordinary brush.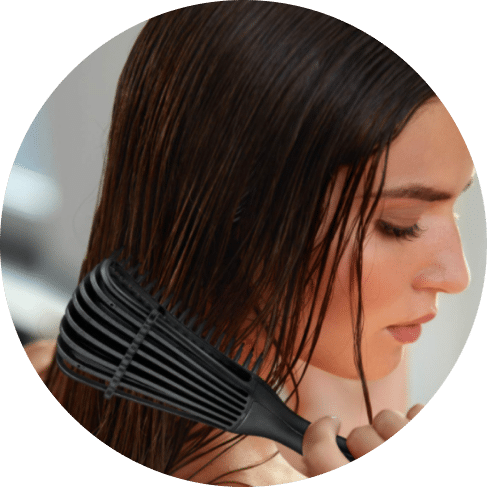 Built to loosen and relax unruly hair
The secret's in our ultra-flexible bristles that are made of nylon. The round shape of each bristle works to detangle and work out kinks without painful tears and tugs. Plus, a layer on the brush for height adjustment allows you to customize firmness of the bristles for a personalized-for-you solution.
Curved design,
ergonomic hold
Made of premium quality braided, which makes it more durable and sturdier than normal cables but also flexible tangle free, withstand a variety of everyday connection needs and long-term use.
Detangle + massage
Our expert-crafted bristles not only get rid of tangles, but also massage your scalp at the same time for boosted blood circulation and a relaxed hair brushing session (no tears or yelps of pain here).
Three expressive shades of comfort
Choose from mint green, pink, and black.