All you need at the arm's length
Use your laptop to the fullest capacity with this holder! It's more than just a laptop holder as it comes with a phone bracket attachment. So, you can have any devices next to you whenever you need them!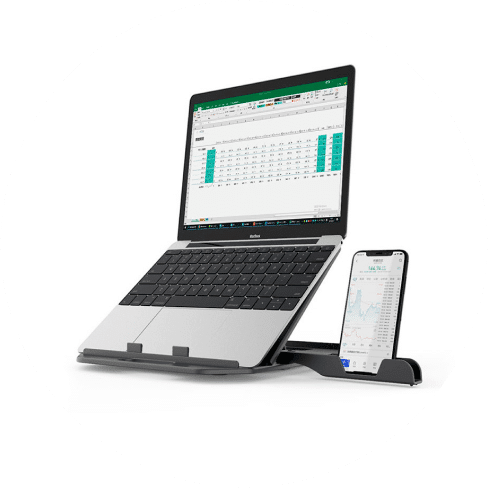 A helper for any laptop user
Using your device has never been more comfortable
Thought-through design
Adjust the laptop position's angle any way you want. 360-degree rotation on the bottom makes it easy to move. The hollow design provides heat dissipation.
Any device will fit it
Laptops & other devices of the size between 10 and 15.6 inches can be placed on the holder. Attach the phone bracket to any side – so convenient!
Durability on point
It's durable – made from ABS plastic, it has a rubber on the bottom that keeps the construction in place. Your laptop is safe and sound!
Product specifications
Unfolded size: 10.62 x 6.69 x 0.78 (up to 7.59) inches. Folded size: 10.62 x 2.36 x 0.39 inches. Max device weight: 44 lbs.
A holder everyone needs
Enjoy using your laptop even more with this holder. It reduces the impact of improper sitting on the neck and the back, makes you feel better while protecting your device, and gives you incomparable convenience. Capable, durable, trusty – just what we all love.