Knee high socks
in grey color
Roam free at yoga, pilates, etc.
These innovative and stylish knee high socks are perfect for barefoot activities such as pilates, yoga, barre, martial arts and more – even pedicures – as they allow your toes to roam free while keeping your soles dry and clean, and offer extra compression right where you need it.
Knee high by Tucketts™
Feel free to feel confident while exercising
100% user-friendly materials
Tucketts™ made it a rule to pay particular
attention to the choice of materials. That's why
these knee high socks are made of 100% user-friendly
materials: 55% cotton, 43% nylon, 2% spandex.
Versatile size
With knee high socks by Tucketts™,
there is no reason to guess which size
to choose. They are designed asone-size-fits-all:
they fit US women's size 6-9.5 perfectly.
Feel stable while exercising
Well-thought-out, Tucketts™ Knee Highs have grippers
on the sole, reliable arch, and ankle.
This is why they help you feel confident and
stable while exercising.
Freedom and balance
These socks were designed with the idea of your
special comfort while doing sports in mind.
They are supposed to let you feel barefoot
and do your best!
Wear over and over again
Don't you like to be barefoot while doing sports? Are you eager to protect your skin, meantime, feel confident and stable while exercising? Then, you should definitely pay attention to Knee highs by Tucketts™! These are premium-quality socks designed with special care to your skin and freedom. So you will definitely want to wear them over and over again!
About Tucketts
Tucketts is a women-owned and operated business with a love for sustainability, a passion for spreading the message about the foot-brain connection, and the mission to elevate women through their feet. Tucketts are high performance, toeless grip socks that enhance the barefoot connection and give the confidence to step into any barefoot activity. Tucketts socks were patented in 2016 because of the unique open-toe design that retains the barefoot sensation while enhancing the foot-brain connection.
The feet are the root of the body, and many times they get forgotten, hidden or disregarded. Tucketts brings awareness of the importance of the feet, and the impact created when people engage them as part of any workout. Tucketts allows sensory feedback to uphold best posture and balance. Easy to put on, the cotton blend wicks away moisture for all day comfort as the open toe design gives unrestricted wear-ability, regardless of toe shapes, sizes or asymmetries.
Creating a sustainable product and finding the balance between people, profit and planet has been our Founder's mission, Paola Shah, since day one. She believes in the importance of diversifying the manufacturing industry and allowing consumers to have a positive impact with their purchase. She has successfully built a tight relationship with her factory in South America, achieving high quality productions as well as growing her business across multiple selling channels and countries.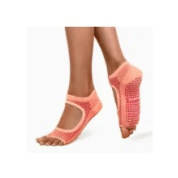 Designed In
Longmont, Colorado