Jacob's Musical Car Charm Chime: Hamsa Healing Hand
Are you looking for ways to calm down in permanent traffic jams? If so, pay attention to the Hamsa Healing Hand Musical Charm as it's exactly what you need!
Hamsa Healing Hand Car Charm
Always perfectly tuned!
Stylish hanging car accessory
Despite the fact this is a car accessory, you can hang it on the rearview mirror, use it to decorate your spice cupboard, or style up whatever you want!
Soothing and comforting effect
Create a pleasant & musical effect during your road trip: enjoying the blending of this car charm's three notes, all tuned in the pentatonic scale, you'll inevitably calm down!
By Jacob Sokoloff, musical instrument maker
Made by musical instrument maker Jacob Sokoloff. Approximate measurements: 3-in tall x 3/4-in wide, on a 9-in ball chain. The longest pipe measures 1-1/4″. Made in the USA.
Delight your dearest people
Get Jacob's Musical Car Charm Chime for yourself and improve your mood each time you get in your car and drive, or give it as a gift: it's packaged nicely already! Plus, a 9″ ball chain is included.
Keep calm & drive on!
Simply hit your musical car charm and chill down all down the road. Remember: Jacob's car charm contains three musical notes: F#, A and B. Guess what they spell? FAB… So just be FAB and enjoy the peace and relaxation of pleasant chime music in your car!
About Jacob's Musical Chimes
Musical instrument maker Jacob Sokoloff has been making tuned wind chimes for over 30 years. Jacob first found success with his magical sounding steel pipe chimes. Later on, he found a way to capture the magic in a series of affordable, miniature, tuned chimes (led by the "car charms" series), which he now offers to the wholesale market. Every product comes smartly packaged, and POP displays are available for most lines. The company is proud to make 100% of its products in the U.S.A.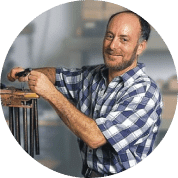 Designed In
Long Beach, California