Wooden Teething Ring Rattle Fox
Are you looking for a teether toy for your kid? Meet a sly but lovable fox and a teething ring made of beech wood! It's designed to let your child play and develop.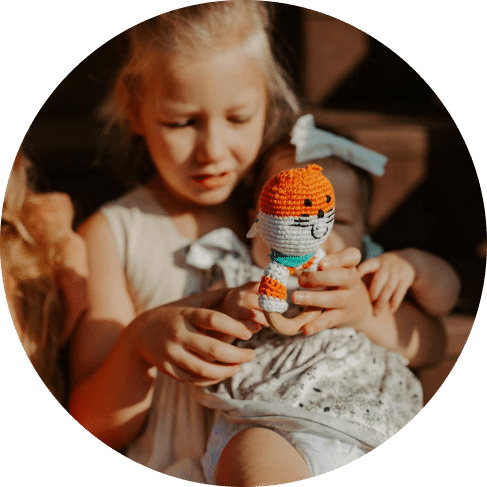 Wooden Teething Ring Rattle Fox
Colorful, meantime, playful handmade fox
Perfect for your kids
Featuring our sly but lovable fox and a teething ring made of beech wood, this handmade rattle is as colorful as it is playful. Size: 5″ (L) x 3.25″ (W).
Your kid's absolute safety
This toy is absolutely safe for your kids: it's made of a beechwood ring, and hand crocheted with 100% cotton yarn and a polyfill.
Design philosophy
Made with child development in mind. Wood ring provides a soothing surface for sore gums. Colors, textures, and shape spark tactile, auditory and visual stimulation.
Easy and convenient to care
This toy is machine washable: for best results, spot wash your Pebble teething ring with cool water and non-toxic detergent. Air dry in an open area.
Give it a shake for a gentle jingle
Wooden Teething Ring Rattle Fox has all chances to become your perfect toy for little hands to hold and teeth to chew on, making it a safe and stylish teething toy. Please note that slight color variations make each rattle a truly one-of-a-kind piece.
About Pebble
Once upon a time, a young woman from the UK fell in love with a young man from Bangladesh. Eventually they moved to Bangladesh and had a baby. As the new mother cuddled her tiny boy, she couldn't help but notice all of the young women streaming into the garment factories every morning. She was deeply saddened when she discovered that many of these woman had babies back home in their villages, left for months at a time with grandparents while the mom worked in the city. Lack of rural employment for women was separating families and putting the mothers in harmful situations and the babies without their mothers. So this new mom did what she could. She gathered a few women around her and taught them how to knit and crochet little dollies that could be sold in the Western markets. Samantha Morshed dreamed that this would grow and become an alternative source of income for women throughout Bangladesh. 15 years later, her dream is becoming a reality. More than 13,000 women are now employed making Pebble toys in their home village. They walk to work, taking their babies with them. There they sit together, yarn spilling onto their laps as they knit community and love together in each heirloom Pebble toy. Pebble was born out of a love for babies and their mothers.
Pebble : Putting Smiles on Faces Worldwide!