Finger paint of the finest quality
Ideal for the little ones who are not yet able to use the brush
Whether you've suddenly found yourself homeschooling your children or you're just looking for a way to pass a rainy day, painting is a sure way to entertain you and your little Picasso. Finger paints are often the first experience a child has applying color to paper before the development of manual dexterity which enables a child to hold a paint brush.
Perfect for children's handicrafts
Maximum creativity and fun for smaller hands
Made with fruit and vegetable extracts
The food-safe, non-GMO ingredients (including potatoes, rice, and beans) provide an all-natural, fun-filled, and colorful adventure for the very youngest artist.
Bright and pretty colors
Includes 4 colors: blueberry blue, cabbage green, watermelon red, and orange… well, orange! The bright, vibrant colors can be mixed to create new shades.
So many ways to paint
It can be easily applied using either fingers or a paperboard, a brush, or a sponge. It can also be used to create textures and to print with patterns and stamps.
Product details
This paint can be easily washed out of most fabrics. Suitable for ages 3 and up. Made in the United States of America.
Directions for use
Painting helps young children explore their creativity, learn their colors, and practice fine motor skills. Mix the powdered finger paint base with an equal amount of water to create a silky smooth liquid paint. Mix only what is needed for a single use, though excess unused liquid paint can be safely stored covered in the refrigerator for a day or two.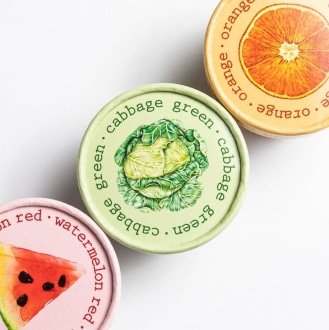 About eco-kids
eco-kids started as a family run business that produces all natural art supplies. It began simply, as all good things do, with the molding dough recipe Cammie's mom made for her as a child. After incorporating natural ingredients into the recipe, the dough was transformed into eco-dough, rich in color, soft in texture, with a delicate aroma like no other. In 2008 Cammie and Kip began selling it at farmers markets. From there, Eco-kids evolved.
This woman owned business lives by the mantra — creative play the natural way. Products are developed with this belief in mind. From using non-toxic, natural ingredients to the unique packaging, Eco-kids works with environmentally friendly companies from around the United States to bring you fresh ideas in the world of art supplies.
The kids test and ensure the art supplies are fun to play with — after all, that's what it's all about.
Designed In
Portland, Maine