Super quick and efficient light-up
We've all been in those situations when we need to light up a candle, but unfortunately don't have any matches or even a lighter. Forget all about them and get yourself a rechargeable electric candle lighter! A far more convenient and efficient way to light up your candles. This chic electric arc candle lighter is wind-proof, and of the perfect length to light candles that are hard to reach!
Product specifications
About the electric lighter
Safety on-off switch
It is incredibly easy to use. Whenever you need to light a candle up, simply slide the switch and enjoy your candle scent.
USB rechargeable
The charge lasts for over 100 lights! Whenever it runs out, just plug in the USB and charge it up (USB charging cable is included). Forget all about having to buy lighters or matches.
Sleek and stylish design
The candle lighter design is especially pleasing as there is nothing extra. Our light gray lighter is made of plastic and 9.2″ long.  It's simple and to the point.
Battery indicator lights
You can easily check the battery condition just by looking at the indicators that are placed on the bottom of the lighter.
Easy way to set a romantic mood
Want to set up a romantic evening with your partner? The electric candle lighter can help you set everything up in a more efficient way.
Power went out?
No need to worry! Since it's fully electric and doesn't have any wires, you don't need to plug it in for it to work. Just make sure to keep it charged.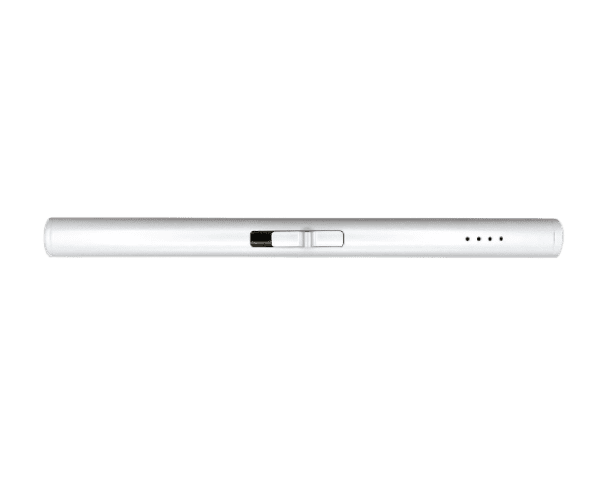 Stylish and effective
This incredibly effective lighter is the best solution to light up candles. Super quick and efficient light-up, fully rechargeable and completely wind-proof. So, basically, not only is this a great home accessory, but also a wonderful partner for your camping trips.
About Nomatiq
Nomatiq is a Brooklyn based design group that specializes in creating and curating meaningfully crafted cannabis-related products and accessories. Nomatiq's dual emphasis on beauty and functionality makes their products ideal for those looking to elevate their lifestyle through quality products. They have also begun a journey of transforming their business model in order to become a more sustainable company.
Designed In
Brooklyn, New York