A toy for the aspiring truckers
Is your child interested in cars or trucks? If that's true, then this truck toy is for you! It has realistic features, cool wheels, and an impressive eagle head in the front. Let your kid taste the entourage of the truck driving!
An eagle truck
For transporting the most prized possessions
It's safe
The toy is made from PP & ABS plastics, which are 100% safe. The soft texture and smooth curves of the toy will not hurt the child.
It's durable
Like a proper toy, this truck can take a lot. Sturdy and firm plastics that are used in the production give the toy incomparable durability.
It's easy to play with
Thanks to its lightweight design, any child can enjoy playing with the truck. It easily moves back and forward with a light push.
Cool design
The toy is colorful and realistic (even though it has an eagle head in the front). It attracts the child's attention immediately!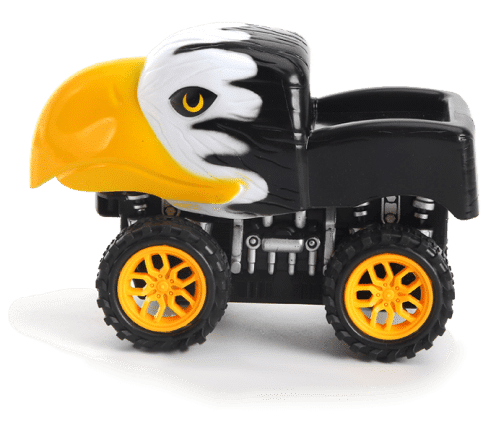 The first truck
Your kid will love this truck. It's simple, doesn't require much force to move it, and the eye-catching design takes a place in a child's heart instantly. It's easy to care for (just wipe it with a damp cloth), trusty, and doesn't have parts that are hazardous. Don't miss it!