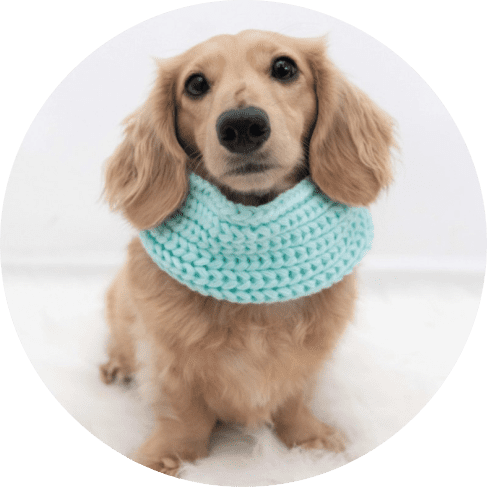 Cold weather calls for cozy scarves
Dogs will thank you for keeping their neck warm and adding a bit of fashion flair with the Dog Infinity Scarf in Teal. It's a great choice for chilly weather!
Show your love for your dog
Keep your dog effortlessly stylish
What are infinity scarves?
An infinity scarf is a continuous loop, meaning that the ends of the scarf are sewn together
to create a loop.
Sizing information & details
The Dog Infinity Scarf by Sassy Woof measures approximately 9″ x 0.5″ and weighs 0.08 lb. Just the right size for most dogs!
Cuddly & soft acrylic
This beautiful teal scarf is made with 100% acrylic and the material is stretchable.
It's soft, warm, and cozy!
Great for winter pictures
Infinity scarves aren't just for the humans! Your beloved pal will look super chic and classy
this season.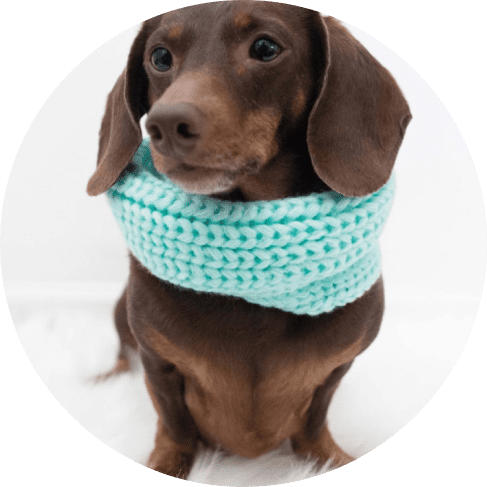 For a warm walk
Your best friend will be fabulously cozy even when the weather is not. Great for those brisk days with you just need a little extra!
Easy on and easy off
The convenient construction of this dog infinity scarf makes it super easy to put on your dog without any snaps or tying up.
Get your companion a classic winter look
Bring fashion along on those chilly walks
Winter months can be rough on your pup without the right winter dog gear to keep it warm and cozy. Dog scarves offer an extra layer of warmth while also doubling as great dog fashion accessories for when your furry friend wants to make a stylish statement. When you're ready to adventure, simply slip this scarf over your dog's head and you're ready to go.
About SASSY WOOF
Modern. Classy. Affordable.
Inspired by our two sassy & spunky dachshunds Maya The Dox and Winston The Dox, we created Sassy Woof to deliver a dog apparel experience that makes your fur-baby feel comfortable and fit for daily use. Our designs are the direct result of endless hours of careful thinking and meticulous attention to detail and crafting. We focus in developing new accessories and products every season to keep your pup's wardrobe as fresh as yours without breaking the bank. Our customers are like our family and we love interacting with each and all of you!
Sassy Woof is a small business proudly based out of the suburbs of Washington D.C. A portion of our proceeds are donated to animal charities because no pet should suffer in this world.
Designed In
Sterling, Virginia