Kitty, meet your new
best friend
When you're too busy with the stresses and demands of daily life to continue jingling bells or throwing tennis balls around to entertain your pet cat, it's time to find a toy that can entertain your kitty all on its own. One that can do its own tricks (without need of human help or control). Enter our Dancing Fish Catnip Kicker Toy, a plush fish that comes to life to keep your cat intrigued for hours.
Come to life, fishy
Thanks to a built-in motion-detecting motor, our fish flops with life-like motion when your cat interacts with it or moves near it (imagine the fear and excitement!). When it's left alone, the fish will not move — playing dead until your cat approaches it again. The motion sensor even adjusts its level of movement based on your cat's movement: it goes fast if your cat is scurried, and it also moves slowly if your cat is approaching it slowly.
Entice with hidden treats
Hm…is the toy not piquing your cat's interest? Time to lay some bait: a built-in velcro-pocket allows you to fill it with catnip or cat food, for endless entertainment (and confusion even) from your cat. Watch your kitty's bewilderment and joy, knowing the Dancing Fish Catnip Kicker Toy can keep your pet occupied with amazement.
Charge with ease
A built-in lithium battery means this fish is rechargeable — and you can do it with just a USB charging cord (one is included with your purchase).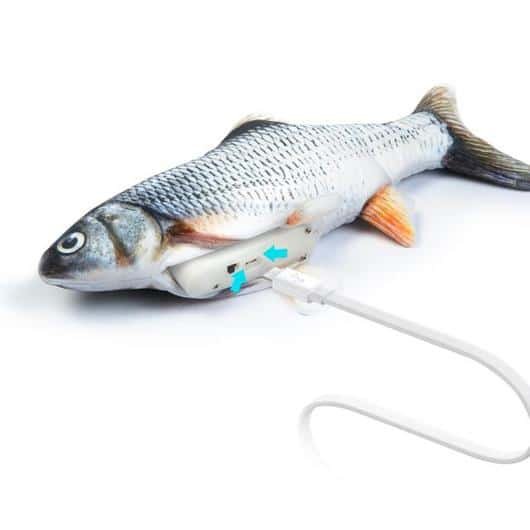 Bite-safe, easy to wash
Crafted from polypropylene cotton, this toy's material is bite-resistant, safe, and non-toxic for your kitten. After multiple play sessions, you can clean the toy by hand-washing; simply remove the interior battery and motion-sensor pack before doing so, and air dry completely before reinserting the pack.
Small (but oh, so fun)
Our fish toy measures just 11.8 inches long and weighs 3.88 ounces for something easy to move around the house — whether by you for on-the-go fun, or by your cat for his or her own enjoyment.