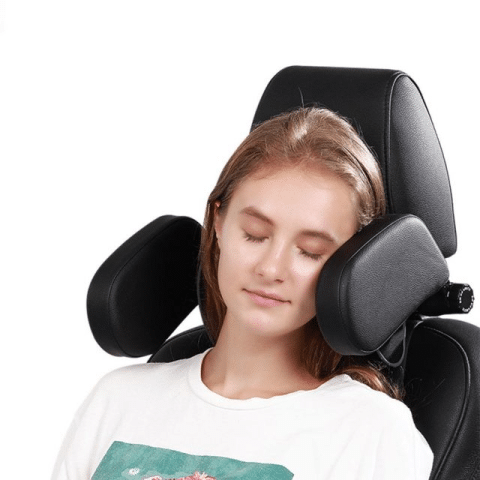 Stay in place while
you catch Z's
Ever take a great nap in the car, but when you're at your destination, you wake up with a sore or stiff neck? Yeah, it sucks — and commonly happens when you don't have proper neck support. Our Car Seat Headrest Pillow changes that, providing all-over support for a better nap session.
The difference between our headrest and those of competitors? We provide cushy side-support pillows that are designed vertically to catch your head if you lean too much to the left (or right) as you doze off. Soft yet thick memory foam helps hold your neck and held upright for a strain-free nap.
Works for just about
every car
Black in color, our headrest blends in with a majority of vehicle interiors. And as long as your headrest poles are at a minimum of 3.75 inches apart, our headrest will fit just fine. Our headrest is made of sturdy ABS plastic with memory foam cushion.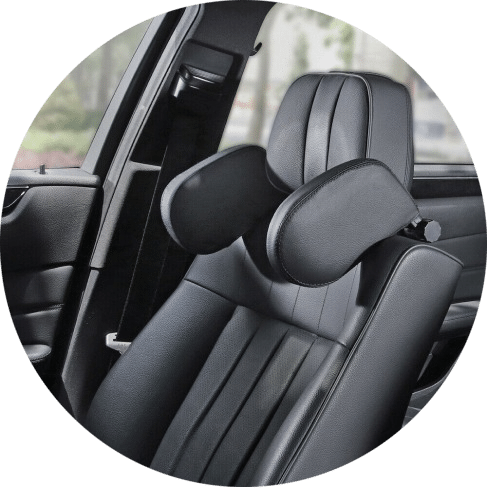 Incredibly adjustable
Telescopic support helps you find your perfect positioning, allowing you to angle up, lower, and rotate your side pillows up to 180 degrees to accommodate various heights. From child to adult, adjust the pillows of this headrest to meet any passenger height for luxe comfort and support.
Ready to add some cushy support
to your passenger seat?
Step 1
Choose from one of our two provided pairs of rubber holders to find your headrest pole's best fit (you get 10-mm and 12-mm-size holders).
Install the left and right pillows onto the road. Tighten the screw caps on both ends.
Step 2
Connect the left- and right-side brackets together (to form one rod), and secure onto your rubber holders.
Check if the distance between both the attached brackets of the rod is within 1.18 in (3 cm). If it isn't, be sure to adjust the hooks of the pillows on both ends to create a more snug fit.
Sleep without fatigue
A lot of cases of neck strain and fatigue result from poor sleeping positions. It's even harder to maintain an ergonomic position when falling asleep on the road in a car seat. That's why our Car Seat Headrest Pillow provides the necessary support to keep your head and neck properly supported — while also preventing you from knocking your head against the car door in turns and twists in the road.