Shows off your dog's
true style
Perfect for every season, this stunning collection will look great on any pup. This vibrant, but subtle blue will have your pup feeling playful and posh.
Meets the needs of every dog
So breezy, fun, and carefree
Comfortable for your dog to wear
This is a fully adjustable collar made with neoprene material with a quick use buckle for extra comfort for your pup.
Sturdy D-ring for attaching the leash
It also includes a sturdy D-ring for leash and tag attachment. Utilize it so you can rest assured your pooch is secure on his or her lead.
Strength and durability
Built to last — this collar is made from tough nylon webbing that can withstand over 3,100
pounds of pressure.
Superior workmanship
This collar is designed with attention to the details and finished with durable and heavy-duty
rose gold hardware.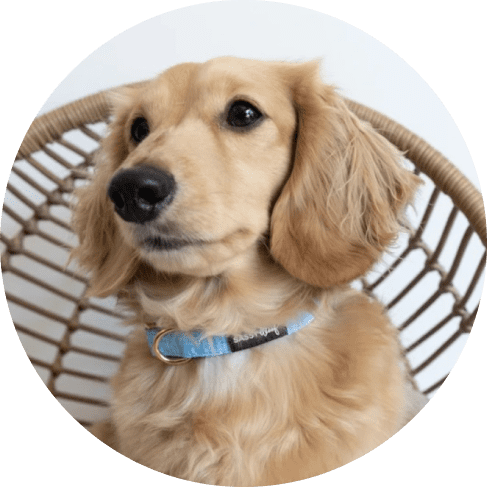 Easy adjustment
This medium-sized dog collar measures approximately 0.78" x 12.6"-19.7" and it's a fully adjustable collar to fit most pups.
Care instructions
Avoid immersing the Blumond' Dog Collar by Sassy Woof in water completely. For best results, clean stains with soap and water only.
Comfortable and eye-popping dog collar
Engineered for longevity and superior performance
Blue is associated with open spaces and freedom and is perfect for showing your dog's trust, wisdom, and loyalty. Walk in style with this beautifully crafted Blumond Collar, featuring a Sassy Woof original design. You can really set your pooch apart from the rest when you get this fashionable collar!
About SASSY WOOF
Modern. Classy. Affordable.
Inspired by our two sassy & spunky dachshunds Maya The Dox and Winston The Dox, we created Sassy Woof to deliver a dog apparel experience that makes your fur-baby feel comfortable and fit for daily use. Our designs are the direct result of endless hours of careful thinking and meticulous attention to detail and crafting. We focus in developing new accessories and products every season to keep your pup's wardrobe as fresh as yours without breaking the bank. Our customers are like our family and we love interacting with each and all of you!
Sassy Woof is a small business proudly based out of the suburbs of Washington D.C. A portion of our proceeds are donated to animal charities because no pet should suffer in this world.
Designed In
Sterling, Virginia