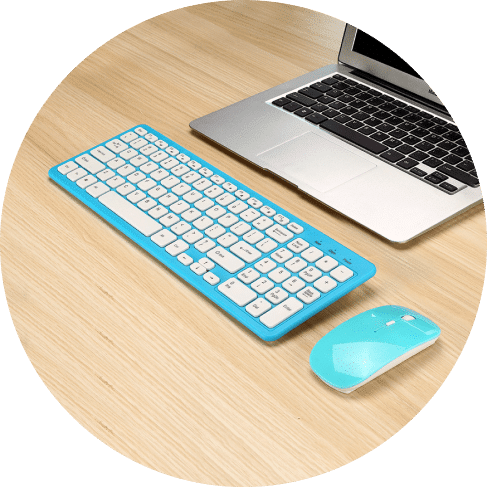 Blue isn't sad. It's soothing.
Remove your monochromatic keyboard and mouse from your computer. This blue ensemble will make you wonder how people manage to live without those smart devices.
Calm on the outside, powerful on the inside
The comfort you need
The mouse's glossy surface provides a firm grip, allowing you to keep everything under control. The keyboard is placed at a 5-degree inclination to keep your hands from becoming too uncomfortable.
Using without any hassle
Connect the receiver and use the set. Both devices are controlled by a single receiver, so you can easily transport them and connect them to any computer. Just be sure you don't lose the receiver!
A calm kick to your desk
Enjoy the convenience and usability of the devices while maintaining a professional appearance. This set is ideal for anyone because of its color. Dependable, efficient, and exciting equipment will provide a huge amount of pleasure and attention to their owners. Who says electronics have to be boring?