Get the device-charging power you need
With an eye-catching design + look
Get style and function with the convenience of the Blue Leather-Surface 6000mAh Power Bank. Never run low on device juice when you have this plug-and-go power-up solution that's portable and lightweight.
Easy, compact, portable
(It's just the solution)
Dots light the way
A four-dot illumination system lets you know the current battery level of the charger.
Dual ports for convenience
This charger has one USB output for devices and one micro cord input for the power bank's charging. It's handy assistance for your smartphone, anytime.
Charge up all your devices
With 6000 mAh capacity using a 5V input/output on a rechargeable li-polymer battery, you get dependable charging power that's always on standby when you need it.
Good grip + size
A textured carbon-fiber-inspired surface adds grip to your hold while a card-size-slim 0.6" of thickness allows easy transportation, from your pocket to a purse.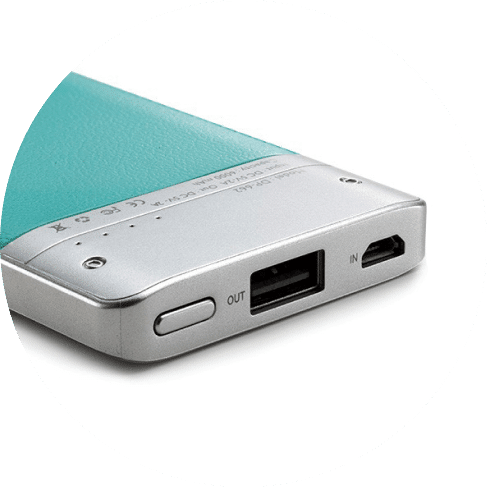 Sleek + handy + modern
Weighing just 4.3 ounces, this Blue Leather-Surface 6000mAh Power Bank is easy to carry, and measures 5.9" x 2.3" x 0.6" (L x W x D) for easy storage.