Banana audio splitter
Hey, Dj…It's time to share your music with your friends
Are you fond of listening to music? If so, this is a high time to share your power tunes with your work gang using Mustard's Banana Audio Splitter!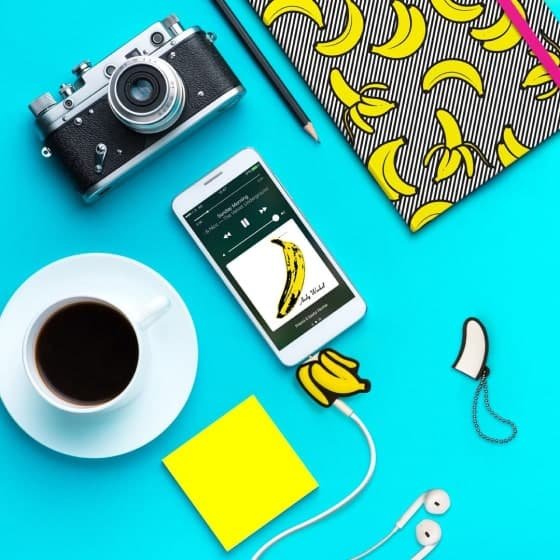 Don't be greedy! Share your music with your closest ones
Take it with you anywhere
The detachable clip chain lets you pop it on your backpack, your keyring, or your phone, so you can easily spread the motivational music.
Perfect design & dimensions
Well-thought-out, it's designed in the shape of a banana for fun and not only. Product Size: w 34 mm x h 68 mm x d 18 mm.
Banana audio splitter
This stereo 3.5mm male plug connector with two stereo female 3.5mm jacks on the other end is specifically designed for quality audio applications. It allows you to connect two mini speakers or headphones to the same jack on your device such as a portable CD player, sound card, or any mini-stereo audio device with 3.5mm jacks. So it's time to share your music with your friends!
About Mustard
Your desk:
The place where your ideas are born, where the magic happens. A place you spend almost the same amount of time that you spend sleeping, a place you call home that becomes your extended home.
In fact you've probably spent more time staring at your screen than in to the eyes of those you love. You've probably eaten more lunches at your desk than at your dining table and let's face it, your desk is an extension of you and If it isn't, then it needs to be!
Cue Mustard, the desk police, the desk ambassadors of the world! We are here to save your desk from the bleak, the mundane, the humdrum. To bring flavour, colour and a sense of belonging all neatly wrapped up in a fashion led package.
And who is this company named after a quintessential English condiment? Mustard are a team of designers and trend hunters headquartered in London with offices in New York that bring the perfect combination of design and commercial prowess to the stationery world. Our quest is simple!
Mustard wants 10% of the space of every desk in the world. A movement we believe in with evangelical determination. A movement that requires your support for it to happen.
So join us, let's give desks out there some appreciation! Because the more love we show them the more they will love us back and our day will be just a little bit more special!
Designed In
Jackson Heights, New York