The support you need
Stretch out and nail all our poses with the sturdy post-perfecting support of our Bamboo Yoga Block. It's a great solution for any yogi, with rounded edges for added comfort and grip.
Feel the balance
Feel the flow
Center yourself
Measuring 9" x 6" x 3" (L x W x H), get ample workout space. Our block only weighs 1.5 pounds too, for hassle-free moving and carrying.
Zero plastic here
Our Bamboo Yoga Block is crafted from 100% bamboo for an eco-friendly workout accessory.
Stable + smooth
Crafted with smooth edges and a solid feel and hold, you won't slip or lose balance while centering yourself in peace.
Ditch the foam or plastic
Because bamboo is not only recyclable, but brings in a touch of beauty from the outside in.
Let's get active
Even if you're not doing yoga, you can utilize our block for stretches or just resting your head.
A fitness enthusiast's dream
Know someone strong on his or her yoga game? Gift them this go-green block for smooth support.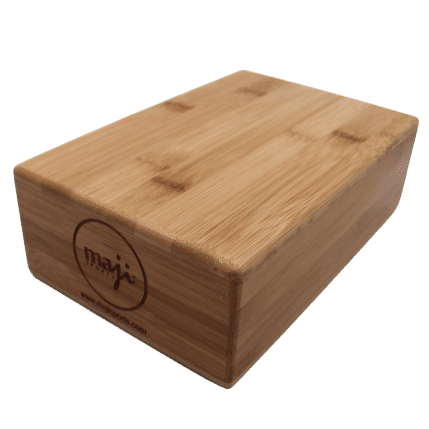 Elevate your yoga game
Maji Sports is a Los Angeles, California-based yoga haven that specializes in ergonomic mats, balls, and accessories that are eco-friendly and sustainable. Reach your fitness goals while working in unison with our high-performance gear.
About Maji Sports, LLC
Maji Sports is a Los Angeles, CA based company, found by Giovanni Vi a long-time fitness enthusiast, personal trainer and certified yoga instructor; and Bemnet Kibreab, a former Wall Street professional and an avid yoga practitioner. We are currently in a little over 7,000 stores in twelve countries, focused on innovating, designing and manufacturing cutting edge accessories for the Yoga, Health and Fitness industries. The products we design, manufacture and wholesale are compact accessories that help people alleviate unnecessary stress, enhance muscle recovery, improve performance and make Yoga, Pilates and Fitness activities more enjoyable while minimizing the likelihood of injury.
Designed In
Los Angeles, California