Keep your pets freshly hydrated
Your kittens and pups will love this pet water feeder!
Ensure a constant fresh water supply to keep your pet comfortably hydrated with this bowl feeder. This water bowl is spill-proof designed to prevent water splashing on the floor, and ideal for traveling. The floating plate prevents dust from falling into the bowl allowing your pet to drink clean water. Large capacity of 40 oz. supplies enough water for your pet to drink for a whole day.
Take better care of your lovely pets
All you need to know about the water dispenser
The size of the bowl
The water dispenser comes at a 7" diameter x 3" (H) and holds up to 40 oz. of water. Ideal for both cats and dogs, for single or multi pet use!
A well-thought-out design
The bowl has a floating disk design that prevents water from splashing, saving you lots of time on cleanup.
It is very convenient to clean
The plastic dispenser bowl is easy to disassemble for convenient maintaining and cleaning. All for your convenient use.
How to use
To ensure that no water is spilled, here is how to use it properly: put on the floating plate, close it with the lid, fill it with water, and forget all about any spilled water!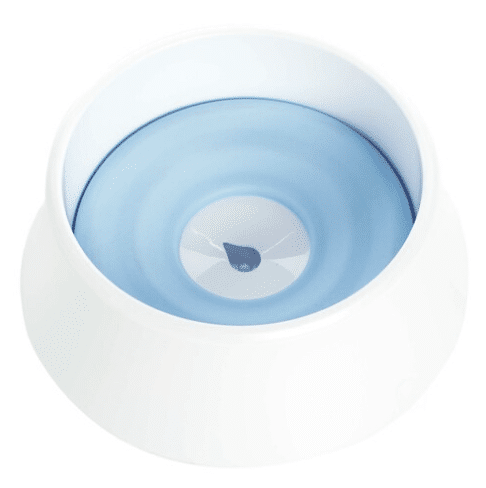 For all the pet lovers out there!
Whether you are a cat lover or dog lover, or even both, this uniquely designed water dispenser will make a perfect supplement to your home. It will be more convenient not only for your pets, but for you as well.
About Quickway Imports
Vintiquewise® was established in 2011 by Quickway Imports Inc. Born as a by-product of an antique habit, the founder had a heavy interest in finding a way to bring superior wooden products with antique finishes to distributors. There was an obvious void in the marketplace, where either quality or authenticity was absent. Those with a passion for antiques know the most prized items possess both traits – sturdy craftsmanship and characteristic finishes. We search the world for hand-selected items that meet the standards that antique lovers expect so that you don't have to.
Perhaps most famously renowned are Vintiquewise® treasure chests and trunks. Crafted in authentic antique style, our treasure chests are the perfect way to add some warm decor to your home while increasing storage space. The trunks are handcrafted with sturdy materials to meet the Vintiquewise® standards.
We continually update our product line with new arrivals. Check back often for the latest in antique home decor and furnishing!
Designed In
GOSHEN, New York