Want better work?
Just ask for a raise
Producing quality work starts with a quality workspace. Re-energize your workspace, whether it's from home or at the office, with a lift. Take your work to new heights with our Adjustable Aluminum Laptop Stand.
Versatile + multi-faceted
One accessory does all the tricks. Our laptop holder is made of anodized aluminum alloy that is sandblasted and brushed, for a smooth, easy-to-handle workspace accessory. The holder stand works for laptops and tablets up to 15.6 inches in size, making it fit for the Macbook, ThinkPad, Surface, Chromebook, iPad Pro, and more (just check your device measurements beforehand to make sure).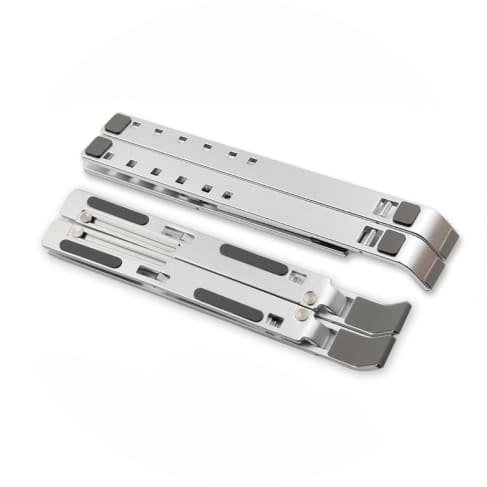 No more pains and aches
Raise your laptop up to six levels of adjustable height for improved ergonomic work use. Experience immediate relief with better angling of your screen so you won't be straining your neck, back, wrists, or eyes anymore. Improved work station ergonomics mean more comfort and well-being for you, even through all-nighters and hour-long meetings.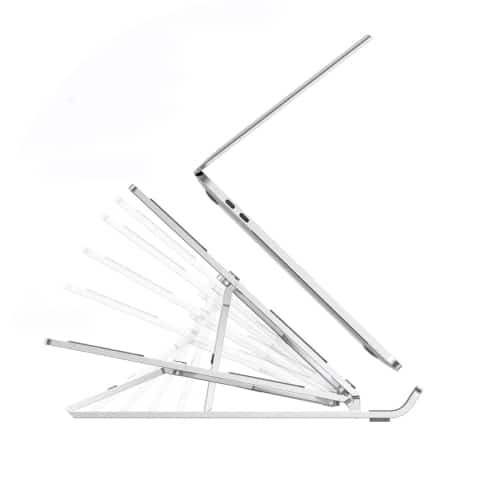 Compact and portable
Take improved well-being, on the go. A foldable design (and included storage bag) means you can fold, store, and take this laptop holder with you anywhere. When folded, the laptop stand measures just 9.4 x 1.75 inches.
No heat
MBuilt-in air vents at the bottom of our Adjustable Aluminum Laptop Stand help ventilate hot air from your laptop or tablet, so you won't have to worry about overheating.
A smooth operator
Each laptop stand uses eight magnets to hold your device firmly in place (you may need to remove any cover or case you have for this functionality; if not, your device can still hold in place just fine). Plus, non-slip silicone matting at the stand's tray edges ensure zero scratches to your device.