Porcelain Sauce Boat
The perfect finishing touch to your dining table
Sunday dinner isn't complete until it's covered in delicious home-made gravy. But how to serve it? We don't think you can beat the elegance and timelessness of our durable white Porcelain 6 Fl oz Sauce Boat! With its distinctive universal design, it is sure to fit any interior and bring the right gusto to the dinner table.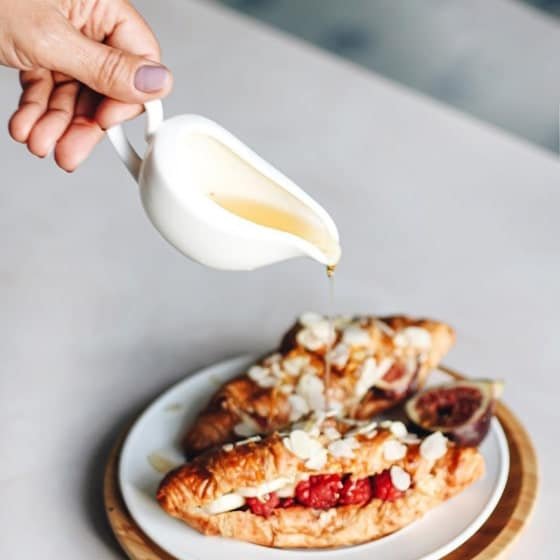 Serve sauces with perfection
Porcelain Sauce Boat: features and highlights
Timeless design
Nothing is classier than the translucent look of porcelain. This Porcelain Sauce Boat will ensure the best presentation of whatever delicacies you choose to offer to your guests.
Premium quality
The Sauce Boat's scratch- and chip-resistant finish will not lose its shiny look after years of intensive use. A great solution for festive occasions or everyday meals, for home or commercial grade application!
Comfort in use
Say goodbye to never ending countertop stains! The convenient and wide pour spout prevents any sauce regardless of its consistency from dripping, while the ergonomic handle is ideal for an easy maneuvering which requires no effort!
Easy care
You can easily reheat your sauce in the microwave and pop both the sauce boat and the saucer in the dishwasher once you've finished.
Details and specs
This White Porcelain Sauce Boat with handle holds 6 oz. (170 ml) of sauce. It is microwave/dishwasher safe, as well as ovenproof (up to 572°F/300°C). Fully vitrified.
About WILMAX USA
Wilmax is an established manufacturer of tabletop small wares including Fine and durable Porcelain, Glassware, Thermo, Bamboo serve ware and High Polish Stainless Steel Flatware. With over 12 years of experience in Europe, we have finally made the move into North America. With Headquarters and a warehouse conveniently located outside of Philadelphia.
Wilmax Manufactures 100% of its product using our own or shared facilities in Asia in order to control quality and design 12 years producing and distributing tabletop goods in Europe, Asia, and Latin America
1,800 + Active and unique SKUs (growing by over 300 per quarter)
Currently, producing all products in Asia under our total control (we do not outsource)
Multi-Million US warehouse located outside of Philadelphia
We are very familiar with the hospitality market and our international clients have nothing but great things to say about our product.
Designed In
Bensalem, Pennsylvania