A flexible balance ball chair for school, office, or home
This non-roll away weighted balance ball doubles as a flexible chair for school, office and home, enabling a healthier posture, increased focus, and improved performance.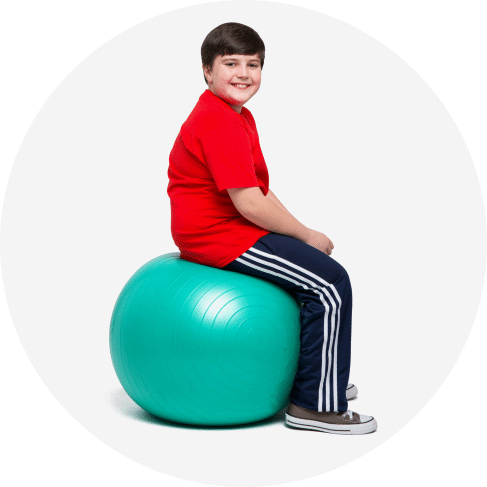 The seating ball specifications
A balance ball for kids and adults
Stays in place
The weighted ball seat reduces fidgeting and increases concentration with an original weighted feature that prevents the ball from rolling, keeping it in place when not in use.
Increases your focus
This alternative seating option for classrooms, offices, and home use helps to keep the mind engaged as the constant ball movement increases blood flow to the brain.
Improves your posture
Using a weighted ball as a flexible chair helps to build core strength and a healthy posture. The ideal ball size for active seating allows for a 90-degree angle at the knees and thighs, so they are parallel to the floor while sitting.
Stress relief
Active seating improves performance by providing an outlet for excess energy and helps to alleviate anxiety, stress, and boredom.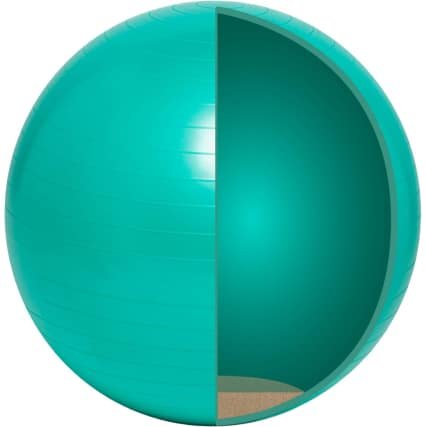 A safe and high-quality ball
The weighted ball seat is lab tested and made with heavy-duty PVC, an anti-burst material. It also includes a foot pump, 2 stoppers, measuring tape, and a stopper remover for user convenience. Latex-free. The 21.6" ball suits people 5'1" to 5'6" tall.
About Bouncyband LLC
The original Bouncyband® was created in 2014 by Scott Ertl, a school counselor in North Carolina to help students have a way to move while seated in class so they wouldn't have to sit uncomfortably at their desks for 5-6 hours a day. He wanted to help them be able to stretch their legs, bounce and give their feet a resting place instead of having them dangle all day from their chair.
Today we design unique products that use movements to stimulate the brain and boost mental performance. Our products are developed to capture the proven benefits of the Yerkes-Dodson Law, which states that physical stimulation can improve and help achieve optimum mental performance when one is neither over-stimulated nor under-stimulated.
The success of Bouncybands inspired the development of our unique line of products for school, work and home that utilize subtle movements and pent up energy to motivate the mind and fuel concentration. They are fun to use and relieve stress resulting in a more effective work environment. These fidget tools stimulate the brain increasing focus, enhancing creativity and improving memory by engaging more senses in experiences.
Designed In
Glastonbury, Connecticut