A grooming kit for large-sized pets
Ready to DIY your pup's haircuts instead of making monthly trips to the dog groomers? A dog grooming kit will be your new best friend (right after your pooch, of course).
Groom your pets instead of paying for a groomer
Get your pooch groomed from head to tail
Includes a slicker brush and nail clipper
The set includes a slicker brush with grip that is 5.7-inches by 4.7-inches and a nail clipper with grip measuring 6.1-inches by 2.2-inches.
For a clean and polished style
The nail clippers are used to trim the pet's nail at a 45 degree angle. The slicker brushes are used for detangling and light dematting hair.
Comfortable & safe design
The brush can be used on most coat types to make the coat smoother and softer. Features an ergonomic design and a handle for comfort and safety.
Remove loose undercoat
The brush can be used to remove loose or dead undercoat by using the line or layer brushing technique.
Take care of your doggo
Keep your pooch looking like they just walked out of the groomer! The 2-Piece Grooming Kit is a must-have for any pet owner. It is the perfect way to keep your pets looking good at home or away.
About Jojo Modern Pets
Jojo Modern Pets started with the idea that people want beautifully designed pet products that match their home.
JoJo Modern Pets has great offerings for small boutiques and regional pet chains. We provide the basics with a unique twist and something people can't find other places. We can pre-ticket some items with your brand or help you source products you know your customers will love.
JMP is stocked with domestic inventory at our warehouse in Illinois. We work with customers to do it "their way." Case packs, moqs and pricing that makes sense for independent stores. At JoJo Modern Pets we pride ourselves on making our customers more money.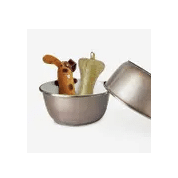 Designed In
Oswego, Illinois